Important Note:
If video sharing has not yet been enabled for your organization or on your assignment, please see our Guest Review: setup guide.
What is guest review?
---
Guest review allows you and your students to share video sessions with guest reviewers who can then provide feedback on that video. A guest reviewer can be someone in or outside of your organization, your LMS platform, or even someone who doesn't have a GoReact account.
Sharing a video
---
If sharing has been enabled for a given assignment, students will see a new Share icon next to any of their own videos and instructors will see that icon next to all videos in that assignment.

When you select the share button on a video you can enter up to 10 email addresses for anyone you wish to share with. If sending to more than one email address, separate them by comma.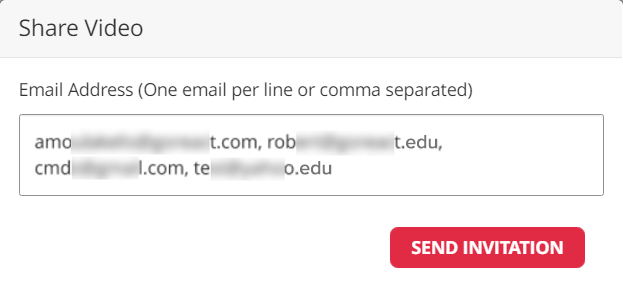 For those that have public sharing enabled, click "Create a Public Share Link." This will generate a link that is exclusive to the video you are sharing. (Public sharing is disabled by default and must be explicitly requested if your organization wishes to use public links.)

Then, click the Copy button to copy the link and share it directly with your chosen reviewer(s).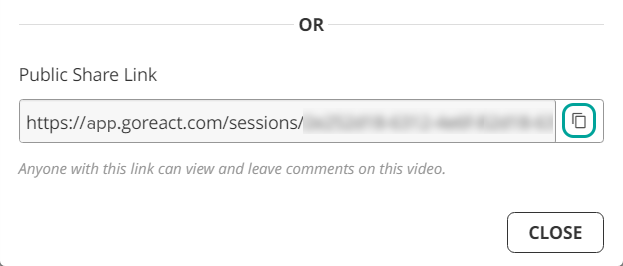 Managing guest reviewers
---
To see and manage the list of reviewers that a video has been shared with, click on the ellipses to the right of a video and select Manage Guest Reviewers.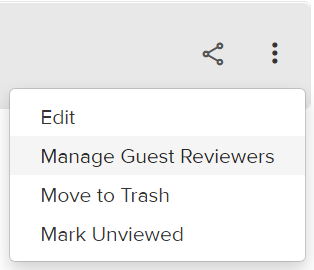 On the Users tab that opens, under Guest Reviewers, you can see who the video has been shared with and whether they have registered to access the video or are still pending. Once they complete the registration, their name will move from Pending Guest Reviewers to Guest Reviewers. Reviewers that have been invited via public join link will not show until they have registered via the public link and will never appear in the Pending list. If you wish to revoke access for any of them, simply click the X next to that user and Remove when prompted.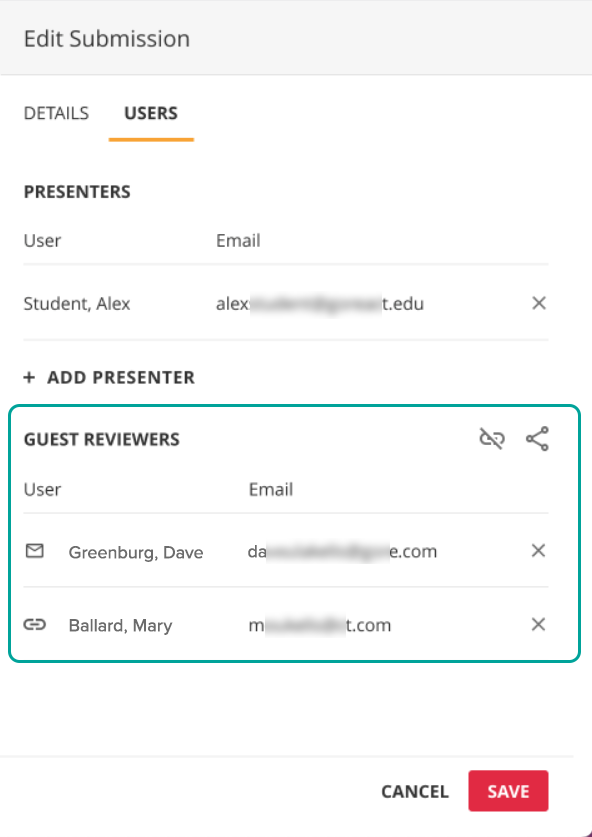 Note that you can also expire the public share link (if public sharing by link is enabled for your organization and assignment) by clicking the crossed out link icon. This will remove all users from the Guest Reviewers list who have accessed the video via that link and the link will no longer function. You can create a new link and share it with your guest reviewers if you wish to grant access again. (Expiring public join links will not effect private links for users invited via email.) You can also add additional reviewers to share with by clicking the share icon.

For guest reviewers that were invited with a private link via email, you can restore access for them, if desired. From the Removed Guest Reviewers section, simply click the Restore icon next to the user's name.

Guest reviewers who had access to a video via a public join link will not appear under the Removed list when the link is expired and cannot be restored.
For more on what your invited guest will see, check out our Guest reviewer experience guide.