There are 3 easy steps to using GoReact: Getting Access to Your Account; Creating a Course, Assignment, and Inviting Students; and Giving Feedback
What is GoReact?
---
Getting access to GoReact
---
You will receive an invitation email from GoReact that looks like this: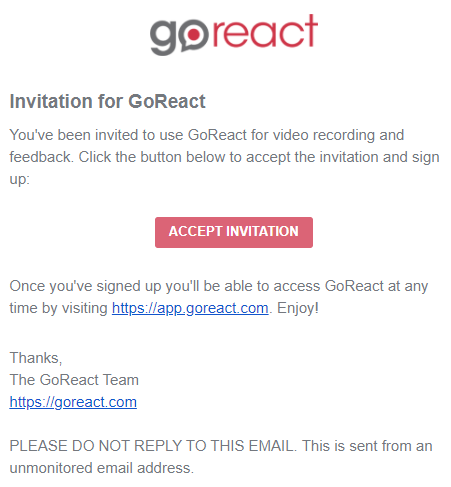 To create an account,
In the invitation email, click "Accept Invitation."
On the right, click "Get My Account."


Enter your information, accept the User Terms, and click "Submit."
Enter your role and course information and click "Submit."
Creating a course and inviting your students
---
Click "Create Course".


Enter a course name, set the start and end dates, then click the "Create Course" button.


Click the ellipses ⋮ to the right of your course name and select "Invite Users."


Copy the link below "Group Join Link" and send it out to your students.

Giving feedback
---
After an assignment has been created and videos have been submitted, you can play a video by clicking the thumbnail of the video.

While playing a student submission, the video is shown on the left and the feedback panel is shown on the right. At the top of the feedback panel, you will see the tabs for Comments and Rubrics (if enabled). Along the bottom of the feedback panel, you will see the different feedback types. These include Markers (if enabled), text comments, video comments, audio comments, uploads, YouTube videos, Library items, and End Notes. See Feedback types for more information on each.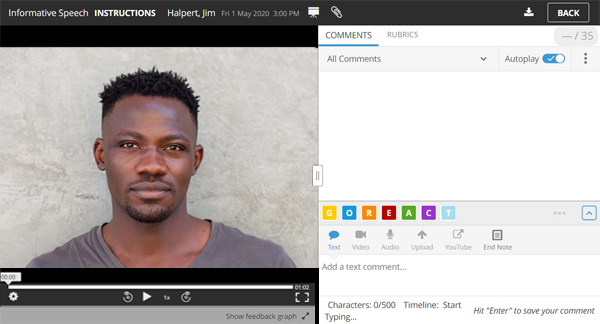 As soon as you start adding any type of feedback (other than markers), the video will pause automatically (except for Live review assignments). It will start playing again when you hit "Enter" or finish your feedback.
If a rubric is enabled, you can complete the evaluation by clicking the "Rubrics" tab. If a marker set has been added, you can add a marker by clicking the applicable letter(s).
More information
---
Answers to common questions can be found on our Help Center. For other questions, or to contact our support team, click the "?" button in the top right of the dashboard or go to goreact.com/instructor.