Before grading videos in GoReact, you will need to change the Grading & Evaluation drop-down in the Assignment Settings to either Points or Instructor Rubric (either while creating the Assignment or by editing the Assignment).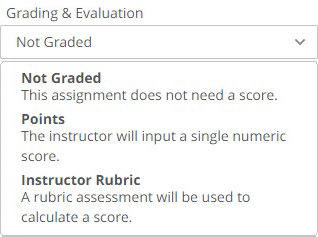 Grading with Points
---
To grade a video with Points, play the video and enter the grade in the yellow points field at the top right.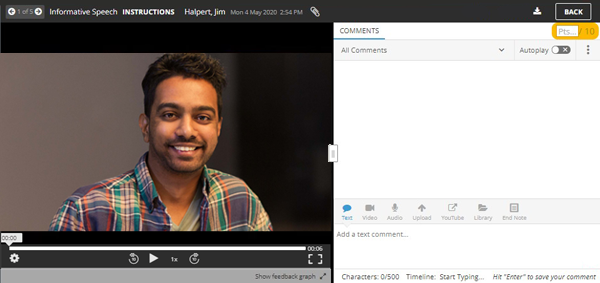 Grading with a Rubric
---
To grade a video with an Instructor Rubric,
Play the video
Click the "Rubrics" tab


Complete the Rubric


Click "Post Rubric."
Grading in an LMS
---
While grading in an LMS (Canvas, Blackboard, Etc.) grades posted in GoReact should automatically pass back to your LMS grade book. Please note the following:
The "Show feedback & grades" toggle must be enabled.
The points must match between your LMS and the GoReact assignment.

Grade passback will not work for submissions created by the instructor (most commonly with the "Create Videos" button on Live review assignments).

Grade passback will not work for submissions with multiple Presenters (most commonly on group recording assignments).
Other Tips
---
By default, feedback and grades are available to students as soon as they are entered. If you want to hide feedback and grades on an assignment, just disable the "Show feedback & grades" option at the top right of the assignment. For more information, see Feedback Hold.

To quickly switch between videos in an assignment while providing feedback, click the back or forward arrows at the top left of the playback screen.