This article is for Students. Click here for the Instructor article.
To learn how to critique a video, watch a short video or review more in-depth information below.
Critiquing a video
---
Enter the playback screen by clicking the video's thumbnail.
Choose the applicable feedback type by selecting it at the bottom of the feedback panel. (Text comment is selected by default.)


Follow the steps for the selected feedback type:

A

Text Comment - Begin typing in the comment box (the video will stop automatically). When you finish typing your comment, hit "Enter" to save it.


B

Video Comment - Choose the applicable type of video comment by clicking "Video," "Upload," or "YouTube." Then click "Record," "Choose any File," or paste/enter a YouTube URL, respectively.


C

Audio Comment - Select "Audio" and then click "Record." Record your comment and click "Finish" when you are done.


D

Markers - Click the appropriate marker at the bottom of the feedback panel.


E

End Note - End Notes are longer, final comments that allow you to summarize your observations (up to 2,000 characters). They will appear at the end of the comment list. To enter an End Note, select "End Note," type your feedback, and click "Save."


Once you finish leaving feedback, click "Back" in the upper left-hand corner to exit the playback screen.
Read Receipts
---
Once feedback has been left on any video you can easily see who has viewed that feedback. Hover over or click on a feedback entry and you'll see an eye icon

. Click the eye to see who has viewed that feedback and when.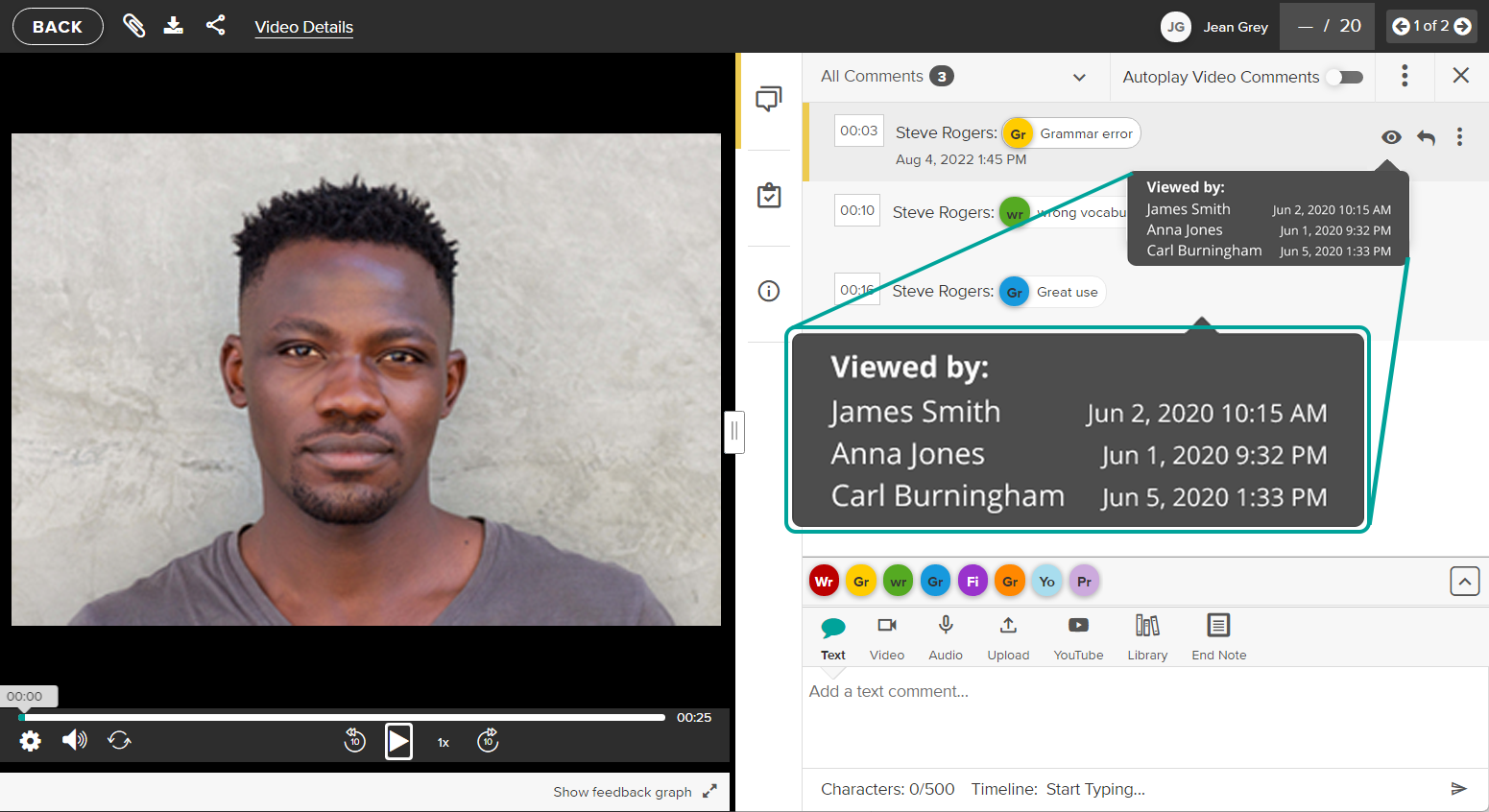 Please Note
Videos created prior to January 2022 do not have read receipts.
Feedback is considered "viewed" if it is on-screen on the feedback panel when viewing a video. Any feedback below the scroll line will not be marked as viewed until it has been scrolled on-screen.
The eye icon will not appear until at least one person has viewed that feedback.