This section explains how to add the GoReact tool to Moodle. Depending on your specific Moodle site's settings, an Administrator may need to set up the GoReact tool.  If you are unable to add GoReact via these instructions, please see How to install GoReact on a Moodle Activity.
Under Administration, expand Site Administration > Plugins > Activity Modules > External Tools. Then select "Manage Tools" and click "configure a tool manually."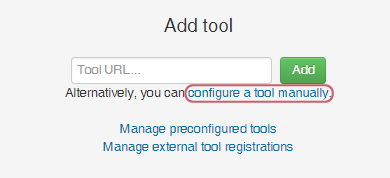 Enter the following information:
In the "Tool name" field, enter GoReact.
In the "Tool base URL/cartridge URL" field, enter
https://lti.goreact.com/lti/v1
In the "Consumer key" field, enter your email address.
In the "Shared secret" field, enter goreact ( lowercase).
Change the "Default Launch Container" to "New Window."  For the best overall experience, we highly recommend loading the GoReact tool in a new window. This will allow students to record and critique videos using the entire screen, rather than being forced into a small window (iframe).
Under "Privacy" set all three drop-down menus to "Always."

Once you click Save Changes, the tool will be installed. Please see How to Add GoReact activities to Moodle to learn how to create assignments.
Important Note
Due to recent security updates in Chrome, you will need to select the "New Window" option in order for Adobe Flash to work properly for anyone using the Chrome browser.  Moodle is working on an update for this issue, but in the meantime, 
if this option is not checked, the Chrome browser cannot be used with your GoReact assignments.