Please Note
With our new GoReact dashboard, there is some new terminology. Note that Folder/Course, Activity/Assignment, Owner/Instructor, and Participant/Presenter are now interchangeable terms.
GoReact offers multiple reporting options such as Assignment Reports, Course Reports, and Rubric Reports. Please see below for more information on those specific reporting options.
Activity Reports
---
To view an Activity Report,
Click the ellipsis ⋮ to the right of your activity name on the dashboard.
Select "View Activity Report."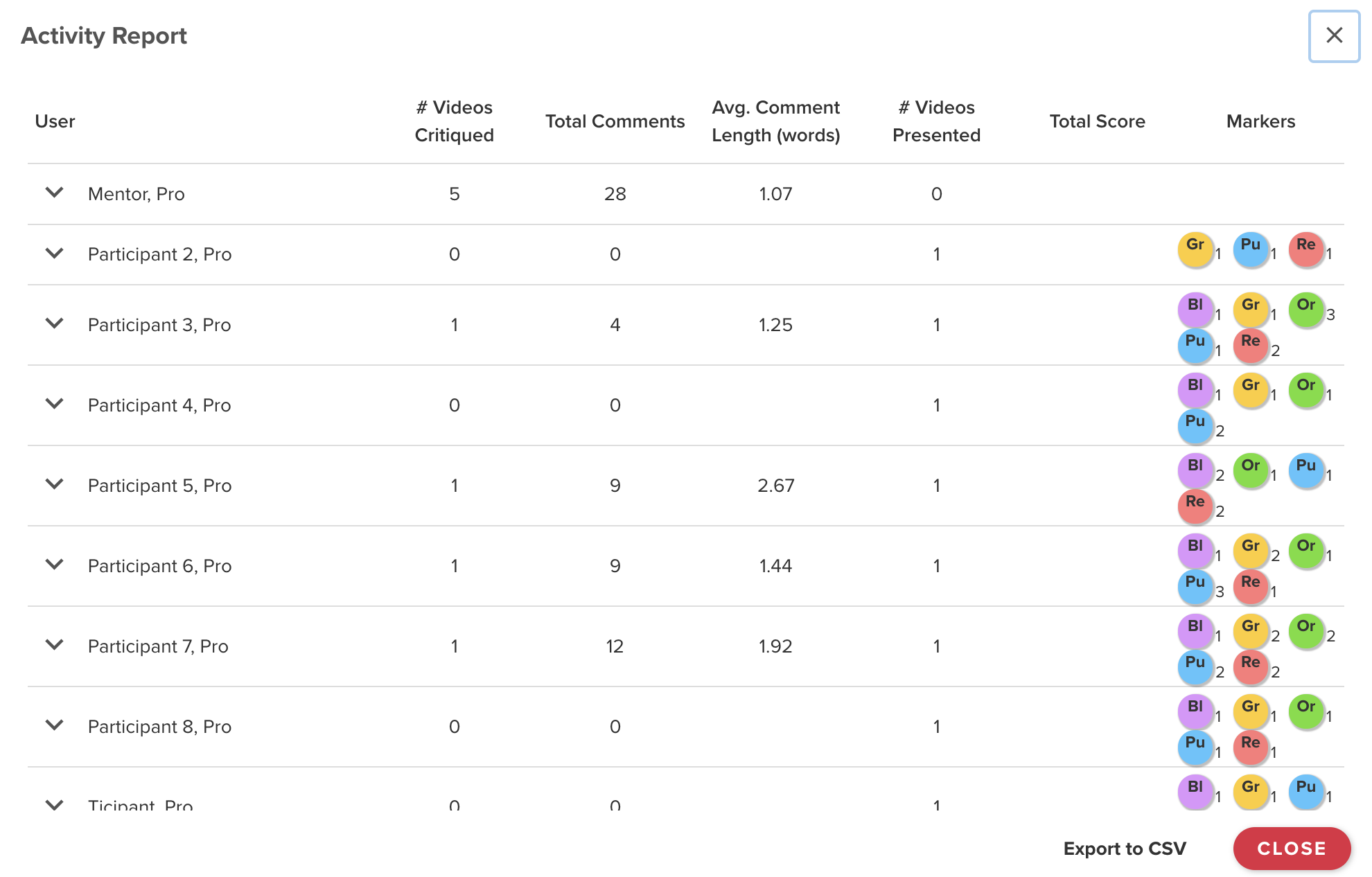 Folder Reports
---
"Folder Reports" are only available to goreact.com users and are not available in LMS platforms. Please follow these instructions to view a Folder Report,
Click the ellipsis button ⋮ next to the Folder name on the home dashboard.
Select "View Folder Report."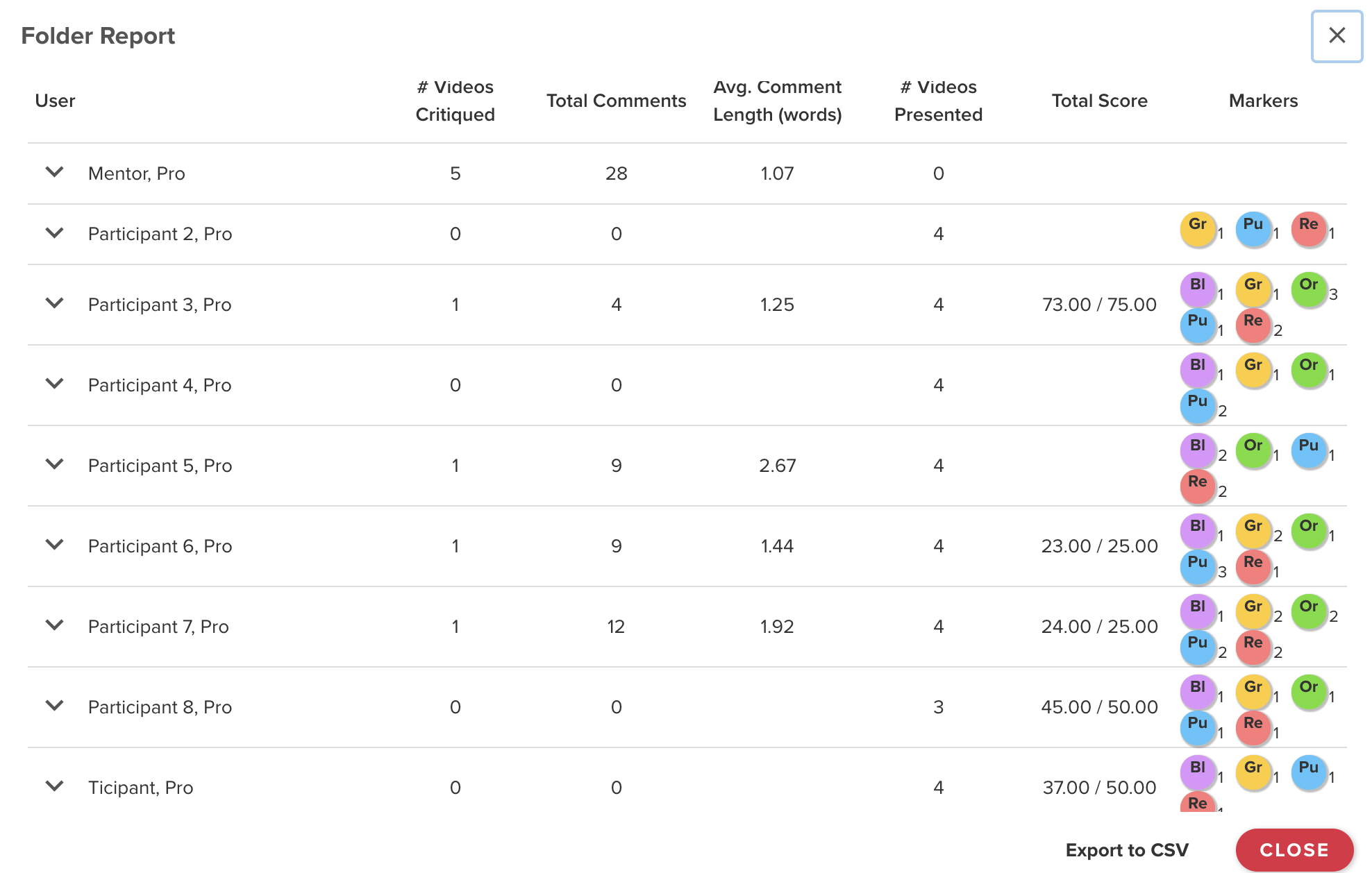 Each folder report summarizes the following information:
# of Videos Critiqued: Shows how many videos the given user has commented on, scored, or left markers on in the entire folder.
Total Comments: Shows how many comments that user has left within the folder.
Avg. Comment Length: Shows how long that user's average comment is.
# of Videos Presented: Shows how many videos that user has submitted in the folder, across all activities.
Total Score: Shows the user's total score for all graded activities in the folder.
Markers Shows all markers that user has received on their videos. (This includes Markers they've left themselves, as well as markers left by peers or Owners on their videos.)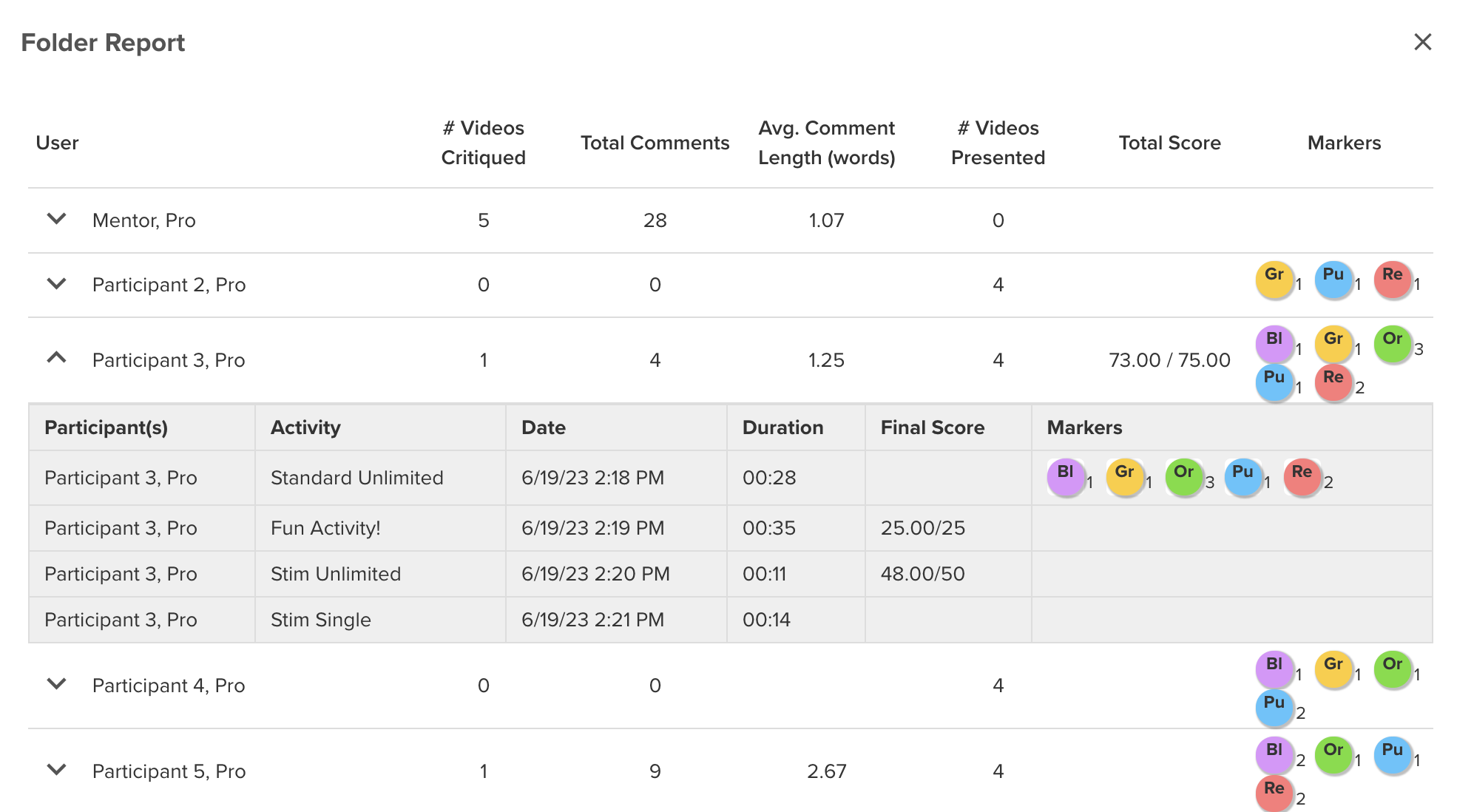 You can also look specifically at recording and commenting activity for each participant. Click the arrow next to each student to get a comprehensive look at their participation in class:
Participant(s): Shows all participants on the videos submitted by this student. (Usually just the student, but for group submissions, there may be multiple presenters.)
Activity: Shows the activity this video belongs to.
Date: Shows when the video was submitted.
Duration: Shows the duration of the video.
Final Score: Shows the final score on the video.
Markers: Shows a count of all markers left on a video.
Rubric Reports
---
You can also download a CSV file to import into your own spreadsheet for any assignments that use a rubric in GoReact. There are two ways to do this, each giving you a different set of results.
Single activity report
To get a report on a rubric used in an activity in one folder, click the ellipses next to the activity name within that folder and select the owner or participant report to download the file to your computer. This is available to both goreact.com and LMS users.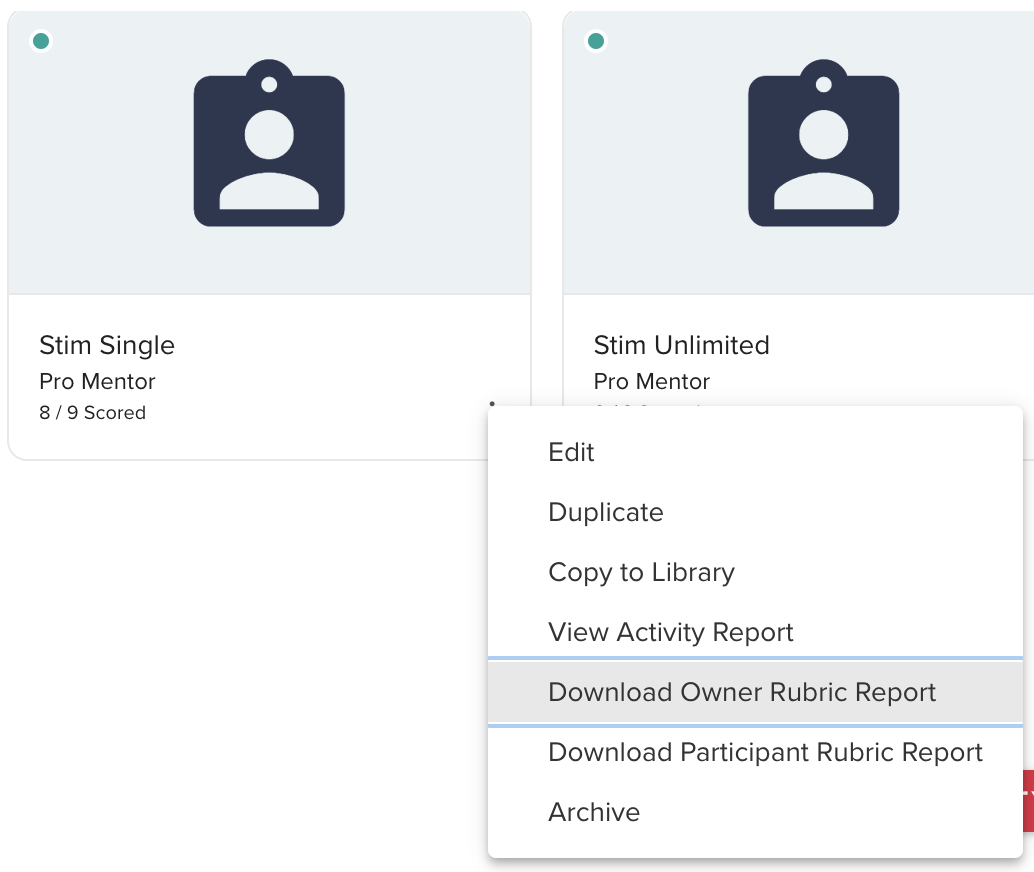 All activities rubric report
If you wish to see a broader report for usage of a given rubric across all activities where that rubric has been used, you can download the CSV file from your library. Note that this will include usage across all folders/activities you have permission to see. (Users with organization level roles will get a report for the entire organization, Owners will get a report for all of their own courses and any that they have been invited into.)
Simply open your library by clicking the Library button

on the left sidebar (or in the bottom right corner for LMS users), select the ellipses next to the rubric and choose the Download option for the desired report.