This article is for Instructors. Click here for the student article.
Live Event Activities
---
Choose this activity type for activities that will include LIVE feedback to be given during a presentation/recording. Any reviewers (including peers, if enabled) may simultaneously give real-time feedback on live recordings.
What makes Live Event activities different from Self-Submit activities is:
Feedback can be given during the presentation as well as after-the-fact.
Instructors are given the option to create "Awaiting Start" placeholders to get things ready for the live event by clicking the "Create Videos" button.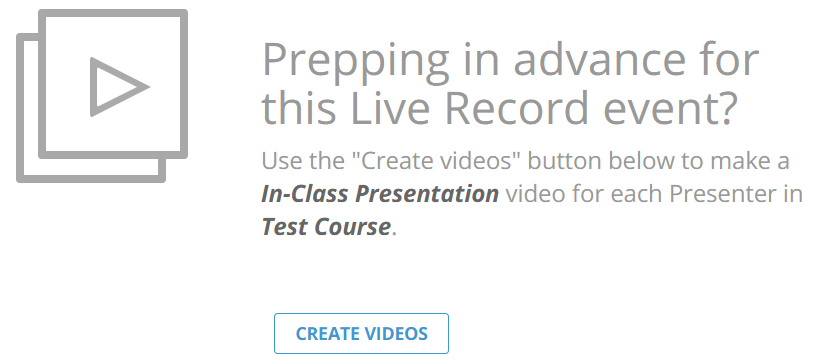 Important Note
Clicking the "Create Videos" button will only create placeholder sessions for those students who are currently enrolled in your course.  Please wait to click this button until all or most of your students have enrolled in your course.  (If you have already pressed this button, you can reset it by deleting all of the placeholder sessions, or you can just create new placeholders individually.)
Once a Live Event recording has begun, participants can join the Live Stream to give feedback by clicking "Join."  When joining a Live Event, the video is hidden by default for anyone in the same classroom.  This is done so reviewers will focus on the actual presenter and not the on-screen video, which will have a slight delay.  If you are watching a Live Event remotely, the video is turned on by default. You can toggle the video on and off by clicking "Live Stream" in the video player controls.

Recording Live Event videos
---
Click "Start" on the placeholder session (or click the blue "Add Video" button if there isn't a placeholder for that student).


Add a title and press "Record".


If you see the Equipment Check, and it passes, press "Continue". If your equipment check fails, click "Download Adobe Flash" and allow any prompts for access to your camera and mic.  If you are still having problems see How to make sure Adobe Flash is updated and enabled.


Once you are on the recording screen, press "Record" on the upper right.


When you are finished recording, click "Stop." 
At this point, you can "Resume" your recording if the activity is not a test or you can click "Done" to finish your recording and post it.