Copy all assignments
---
There are two ways to copy assignments from a previous course.
If you are creating a new course, select the course you wish to copy assignments from at the bottom of the "Create Course" window.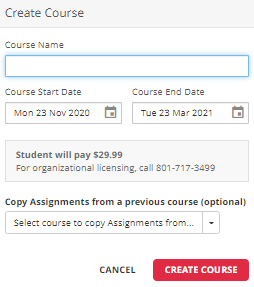 If you have already created a course, click the ellipses ⋮ next to your course name and select "Edit Course." At the bottom of that sidebar, you'll see the same "Copy Assignments" option.

Assignment due dates
After copying assignments with due dates, the Assignment Due Date editor will open. Please make sure to check these dates and adjust them if needed (For more information, see
adjusting assignment due dates
).
Copy one assignment
---
To duplicate an assignment within a course, click the three dots to the right of the assignment name, and click "Duplicate Assignment."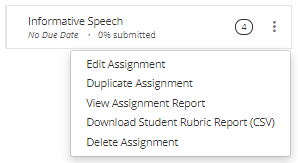 After this, the create assignment panel will open on the right. Update the assignment name and any assignment settings, as necessary, and click "Create Assignment."