The Library is your one-stop location for managing all of your media, rubrics, markers, and documents. To open the library, click the library button at the top right.

From here you can:
Create, upload, edit, copy, move, or delete a library item.

Access your organization's shared library.

Set up Collections of library items.

Collections make it easy for you to organize your library course, topic, or any way you'd like.

Share content through Collections.

Copy, or move a library item to the organization collection or to another collection that is shared with others.

Create your own collections and share them with other GoReact users - they will have access to all items in that collection.
Let's look at the different sections within the Library.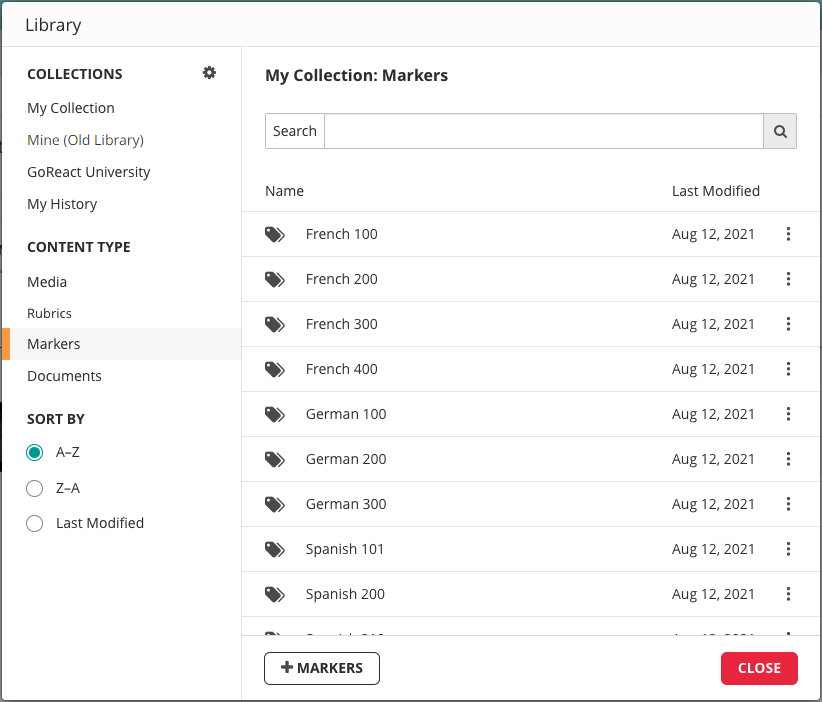 My Collection
This collection shows items in your Library that were created by and are only visible to you. Here you keep the things that are important to you, and that you don't necessarily want to share with others. Or perhaps you have items you might share later but are not currently ready to be shared. Any item(s) under My Collection are items that you have explicitly placed there - items are never placed in this collection automatically. You decide which items you want to be stored in your collection.

Mine (Old Library)
For previous GoReact users, you will see a "Mine (Old Library" tab in your library. This is a temporary collection that contains all of the contents that you previously saw under the "Mine" tab in the old GoReact Library.
Please move anything you'd like to keep from this tab into a new collection. We will eventually remove the old library, and will notify users prior to that time.

Organization collection
This collection shows all library items that have been shared to your organization by your colleagues. This will also include any items that have been shared with you by being invited into someone else's course or account, including those in other organizations.

My History
This collection is a record of all the things you've created, added, or uploaded to your assignments, courses, and library.

Custom Collections
You can create up to 25 custom collections in your Library to help organize your content however you'd like.
Please Note
For any users that have linked their LMS account with their GoReact.com account because you use GoReact on both platforms, you will notice that the My Collection and the Mine (Old Library) collections display library items from both the goreact.com and LMS organization that you are linked to. Note that linked users will only see the organization tab that is tied to the account you are currently logged in with, but you will see all of your custom collections from either organization.

Managing your Collections
To create, edit, remove, hide or rearrange the order of your collections click the Manage Collections (gear) icon at the top left of the Library.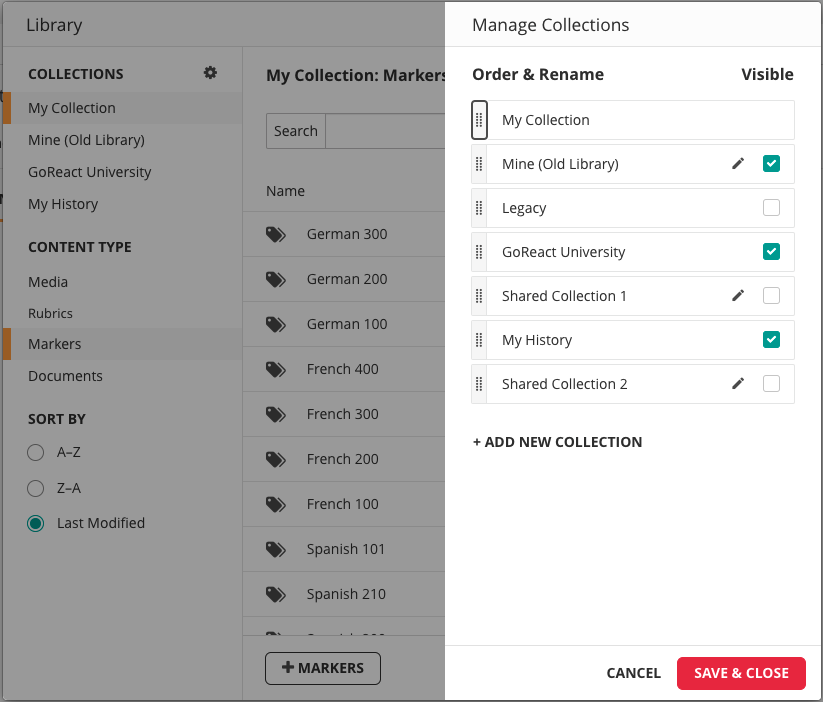 Click and drag on the dots to the left of each collection to move them up or down in the list.
Click the Edit (pencil) icon to rename a collection.
Click the checkbox to the right of any item to hide this collection from your main library view.
Create new collections by clicking Add New Collection.
Click Save & Close when you are done.
Note
You cannot hide or rename "My Collection." The organization collection can be hidden but not renamed.
Folders
To further organize your collections, you can add folders within your collections by clicking the +Folder button at the bottom.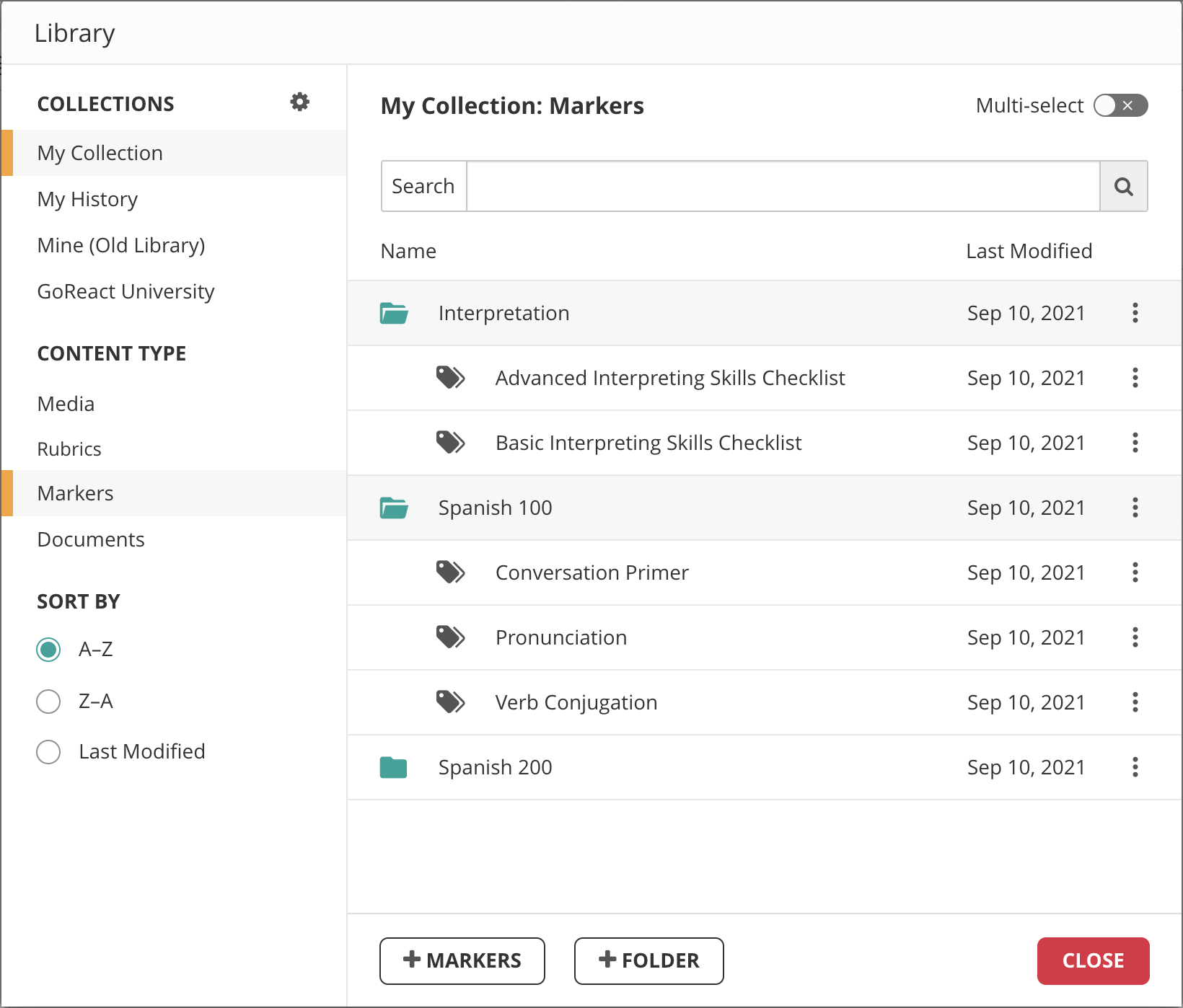 Sharing Library Collections
When creating or editing a collection, you can also add collaborators to that collection by entering their email address in the invitation line. This must be the email address associated with their GoReact account. This lets you share your collections with your colleagues.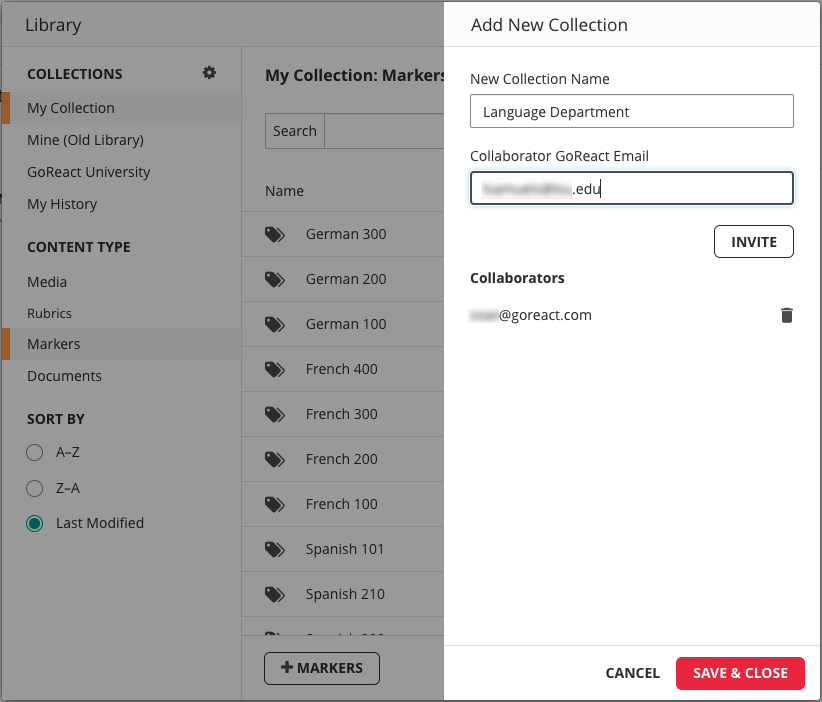 Managing individual Library items
Any item you've added to your library can be previewed, edited, copied, deleted or moved from one folder to another, to the root level of a collection, or from one collection to another. To do so, click on the ellipses next to each item and select the desired action.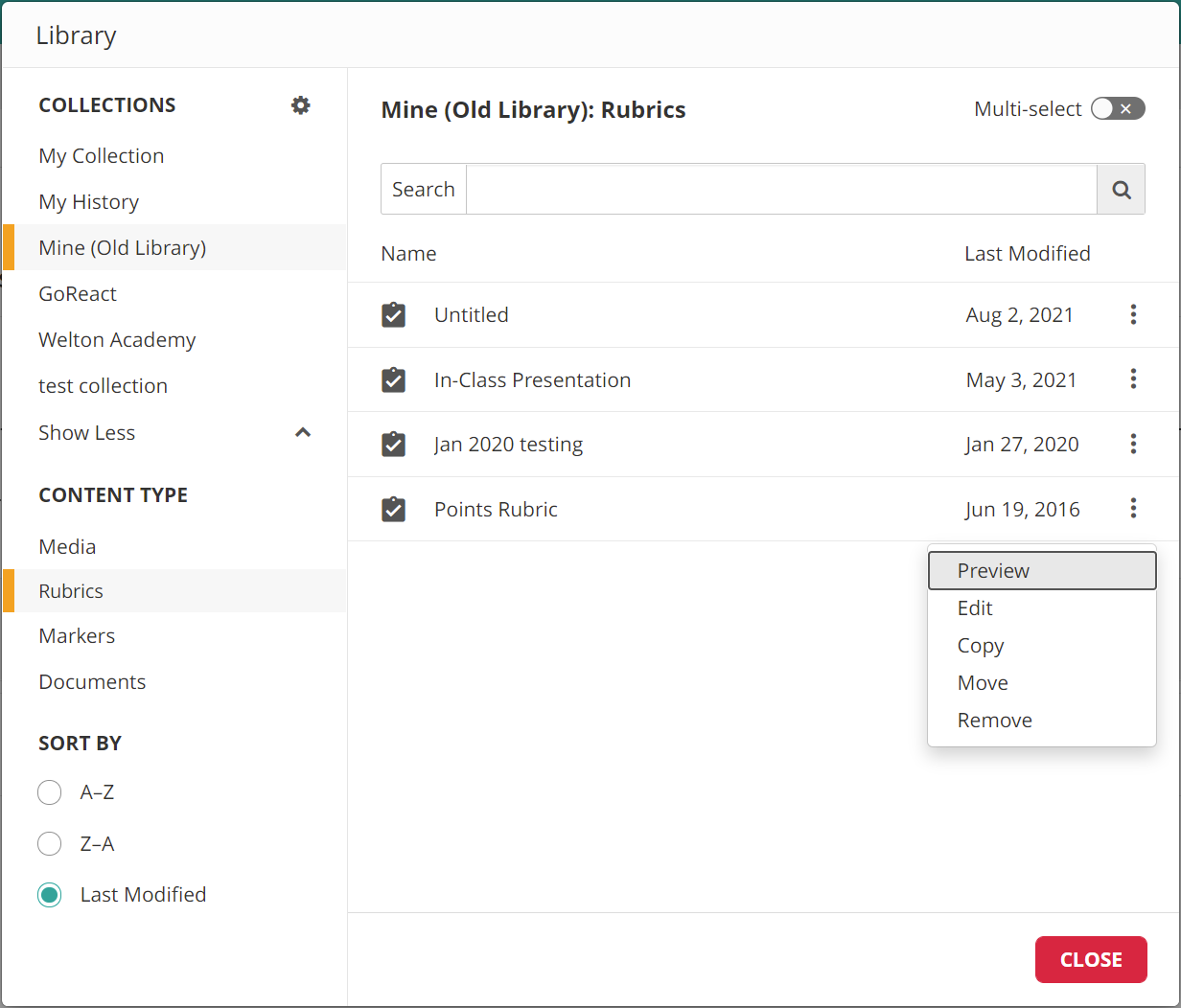 Muti-Select
You can also use the Multi-select option at the top right to copy, move, or remove multiple items at a time. Simply turn the Multi-select toggle on at the top right and check the box next to the items in question, then click the ellipses and choose the desired action.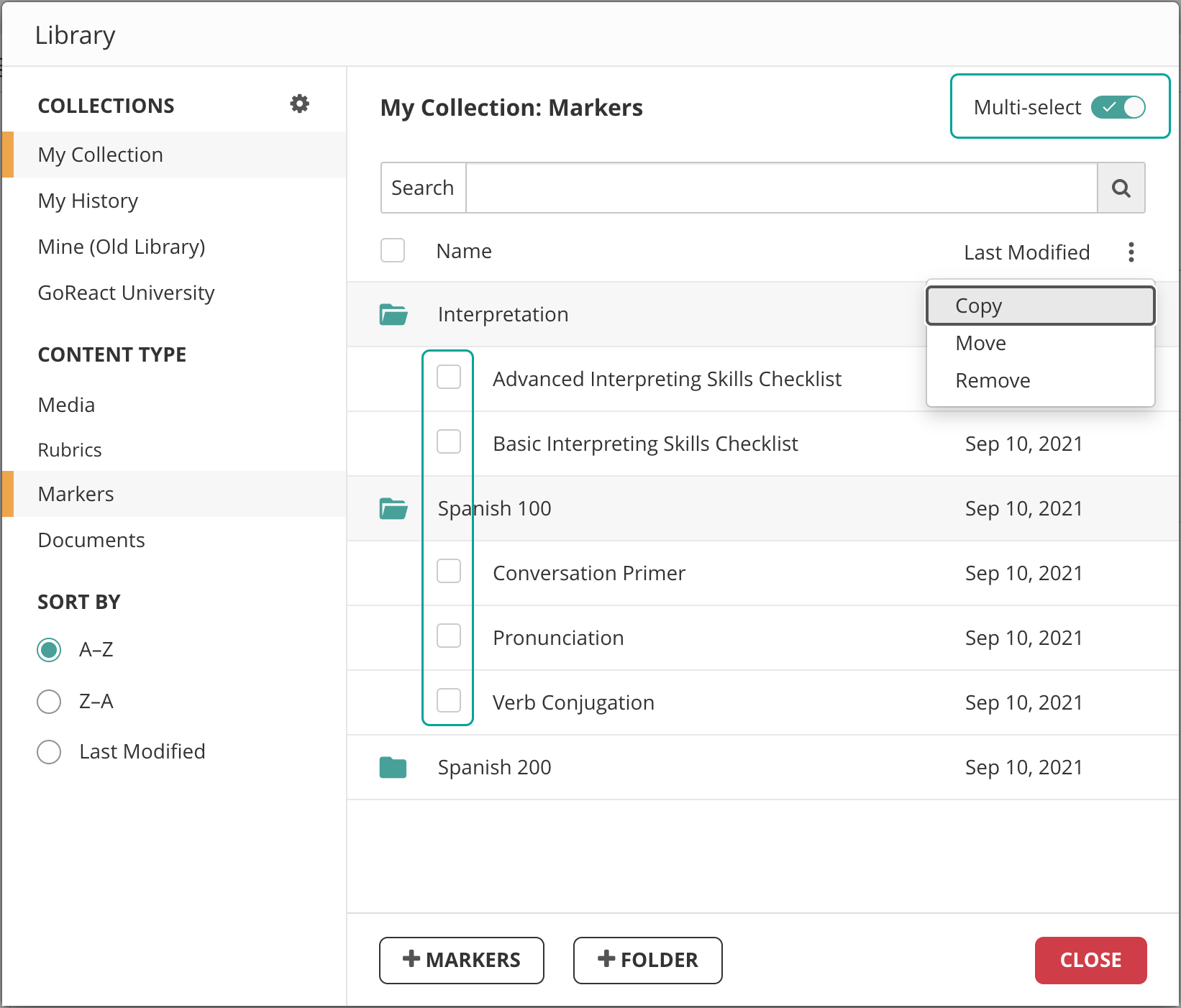 Sorting your Library items
You can sort the items in your Library alphabetically A-Z, Z-A, or by the last modified date. To do so, select the desired option at the bottom right.