All of the help documentation that you see under Student Documentation still applies to the GoReact app in Blackboard. The only thing that is different is where you log in.
Important Note
If your instructor is using Blackboard, then you cannot access your course directly at goreact.com. Instead, all you need to do is log into your Blackboard account, open your course, and then click on the assignment that uses GoReact.
Paying for GoReact
---
The first time you click on a GoReact assignment in Blackboard, you will be prompted to enter your payment information or access code. You will pay right through Blackboard and will not need to go to goreact.com for anything! We made it nice and easy.
Note: If your school is paying for GoReact then this step will be skipped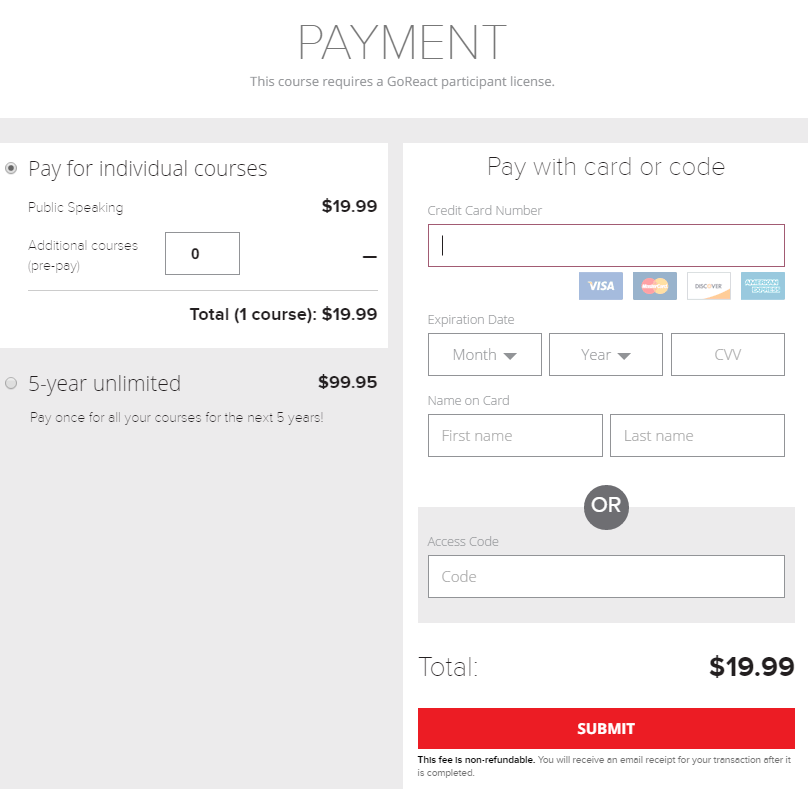 Creating a video
---
After you pay for GoReact and accept the Terms of Use, you will see the GoReact dashboard, where you can submit your videos.  To access any of your future GoReact assignments, you will just open each assignment in Blackboard.  For more information on creating videos see Recording and uploading. If you want more information on different GoReact activities, see Activity types and settings.